Two of Aotearoa New Zealand's largest horticultural businesses - T&G Global and Zespri - are teaming up with science organisation Plant & Food Research and other industry partners on a new project to research, develop, define, and promote sustainable and...
T&G and PFI enter sale and leaseback of 22 Whakatu Road, Hastings T&G Global is selling and leasing back its Whakatu West site at 22 Whakatu Road, Hastings, in a move which will generate $79.545 million to support its growth strategy. The 9.56 hectare site is...
Subscribe to receive our T&G news, fresh off the press.
November 5th – 8th marked the 4th annual Taste of Auckland, New Zealand's most celebrated foodie festival showcasing what's hot on the Auckland food scene.  More than 25,000 Aucklanders flocked to Western Springs over the 4 days to try signature dishes from some of...
Subscribe to receive our T&G news, fresh off the press.
American's have once again selected New Zealand-born Envy™ apple as their favourite in a consumer competition run by the US Apple Association. The interactive tournament-style competition called on American apple fans to vote for their favourite from 16...
The Board of T&G Global Limited (T&G) is pleased to announce the appointment of Mr Gareth Edgecombe as Chief Executive Officer (CEO). His commencement date is yet to be confirmed. Additionally, Mr Peter Landon-Lane has been appointed as Chief Operating Officer...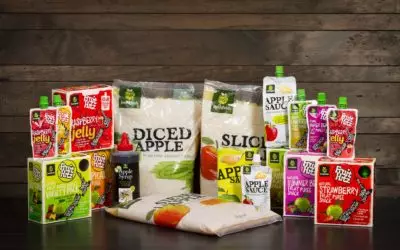 T&G Global Limited (T&G) has today entered into a conditional sale and purchase agreement for the sale of the major assets of its subsidiary ENZAFoods New Zealand Limited (trading as T&G Foods) to Cedenco Foods New Zealand Limited ("Cedenco"). Under the...
T&G head grower manager Greg Prendergast loves the great outdoors. But, like many of our people at T&G, he's taken his love of the land one step further than most and made working as a grower a successful career for over 30 years. Greg, a senior member of our...
Japanese apple lovers who enjoy an apple a day will be able to truly indulge themselves with Japan declaring 28 June as 'JAZZ™ Apple Anniversary Day'. The date was chosen as it marks the date the first container load of New Zealand-grown JAZZ™ apples...
T&G Global Limited (T&G) had plenty to celebrate in its 120th year despite climatic challenges which impacted its overall business result and contributed to a reduced profit after tax of $22.6m, down 30% on the previous year. The Group reported over a billion...
T&G Global, formerly Turners and Growers, has doubled its support of undergraduate students studying at Massey University's Palmerston North campus towards a degree in horticulture. Applications for the scholarships, worth up to $5,000 per year of study over three...
Australians are on the road to accessing more healthy fruit thanks to leading fresh produce grower and marketer, T&G Global. Despite an increased focus on health and wellness, over 75% of Australians still don't meet recommended daily intake of fruit and...
New Zealand's first online ordering system for wholesale produce, T&G Global's First Pick, has had a major overhaul with the company making enhancements to the platform to make it more intuitive and easy to use. Developed in-house by T&G (formerly Turners and...
T&G Global has announced that Sir John Anderson will retire from the Board of Directors, effective 14 December 2017. The highly respected New Zealand business leader was first appointed as a Director in April 2012, and as Deputy Chairman in December 2012. Over...
T&G Global has announced it has signed an extended five-year sponsorship agreement with the Royal NZ Institute of Horticulture Education Trust which runs the Young Horticulturalist of the Year competition. T&G has supported the annual competition since 2010,...
Watch our recent planting along the Kapiro Stream, where we've planted over 2000 native plants over the past two years. The T&G team in Kerikeri did an excellent job getting volunteers to attend and by preparing the site by clearing invasive species and laying...
With the coming UK season signifying the 10th anniversary of British grown JAZZ™ apples, Kent-based grower Peter Chandler has helped the special variety celebrate in style after his JAZZ™ won the much-coveted 'Tastiest Apple' title at the National Fruit...
The T&G Garden to Table Young Gardener of the Year Awards will run again next year, so keep your eyes out and keep those green fingers gardening! We received nearly 70 applications from primary schools and keen young gardeners aged between 7 and 11 years from all...
T&G Global Limited (T&G) announces that it is considering the potential sale of the business and/or assets of its food processing subsidiary ENZAFoods New Zealand Limited trading as T&G Foods. T&G's strategy is to focus on its core business of growing,...
T&G's Lotatoes™ has fended off four other food innovators to be crowned overall winner of The Ministry for Primary Industries Primary Sector Products Award at the 2017 New Zealand Food Awards. The category promotes, recognises and showcases amazing...
T&G Global has become the license holder of a suite of 16 proprietary blueberry varieties in Australia, allowing it to better deliver to growing demand for berry fruit worldwide. The exclusive agreement represents one of the biggest collections of proprietary...
T&G Global has strengthened its relationship with long-term partner, Montague, based in Victoria, Australia. Montague is Australia's leading producer and distributor of stone fruit. The two companies have enjoyed a positive commercial relationship for 15 years...